About
Our Kids Activity Center in Kothrud
My Activity Pune runs 'The Jumping Joeys Experiential Learning Center', which focuses on activities for the Early Years age group, i.e 4 to 9 years. Being the formative years of life that have a lasting impact on our lives, every aspect of development of this age group is minutely taken care of while planning activities at the Center. It specializes in trainings, workshops, camps and activities conducted for teachers, parents, care givers, day care facilitators and students. The adults catering to the age group topics related to the early years such as parenting, discipline in early years, effective remedies for increasing children's attention span, story telling and more are taken care of. The Sunday Activity Club run by JJ, conducts activities planned around a theme. The theme is selected considering children's fields of interest and bringing them closer to nature. For example- themes such as Leaves, Pets, Celebrating Mother Earth, Our Life Lines and more. The activities are run in small groups so that individual attention and enough of freedom to do the activities is possible. This results in effective in-depth learning.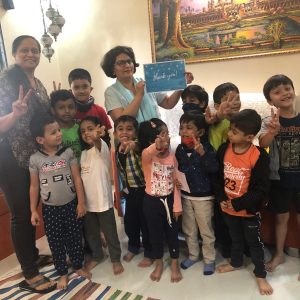 The need to connect the best old practices of child grooming to the new and latest trends in the field of education is the focus of this Center. The expertise and guidance on various topics are customized in order to cater to the client's needs. Keeping in view the overall development of children, activities planned by JJ are outstanding. Building on the child's existing knowledge, modules are created and developed for maximizing learning in a joyful way. Connecting to parents and involving them in the learning process is another strength of the Learning Center. Experts from various fields such a language, physical fitness, dieticians, music lovers are connected to the Center.

Founder/Director
The expertise comes from the founder Mrs. Maya Agharkar who has a rich experience of 30 years in the field of Early Childhood Education. This also includes a span of 8 years of International Teaching in a reputed International American School in Shanghai. She has a bachelor's degree in Early Childhood Education and has completed her B.Ed. She has also completed a Post graduation diploma in Communication Media for Children. After a successful tenure as a pre-primary and primary teacher she has also had an opportunity to be the Principal of an International School in Pune. She believes in continuous learning and upgrading her knowledge. She is a member of NAEYC- National Association for Early Years Education in the United States. She updates her knowledge and skills by signing up for online training modules like 'Soar to Success' Summit by Teaching Tribe, Big Ideas by Smekens Education, attending NAEYC Annual Conference in the US, as well as reading books by eminent Early Years experts. She is passionate about providing the most needed exposure and all- inclusive learning experience for children for better development as a part of preparing them for the modern world.